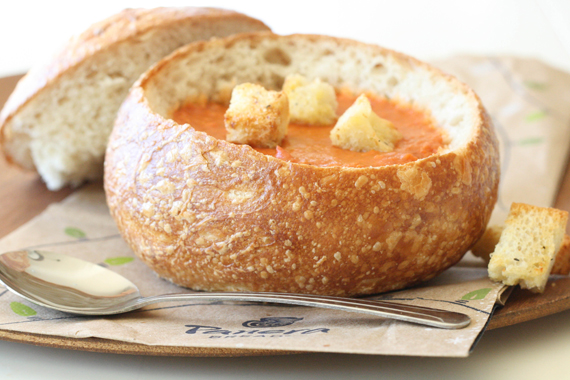 Not much to say today.
Still saddened and heartbroken, still grieving for those who are suffering…
And yet, I was chosen to participate in an opportunity to enjoy soup at Panera Bread.
It doesn't feel right, to write about randomness or to do restaurant reviews with all that is wrong today.
It's not time to move on, not yet.
I can't stop thinking, wondering, hurting for the lives that were lost on Friday.
At the same time, I am loving, cherishing, and clinging to each moment with my children like never before.
Dropping the kids off at school has been painful.  Picking them up a bit tearful.
The thoughts, the questions, they won't stop coming.
But I do need to eat so…
After picking up my kindergartner today, we headed to Panera Bread for lunch.
I ordered the Creamy Tomato Soup, hoping for a little warmth and comfort, while my little ones drooled over the delectable cookie display.  Within a matter of minutes, my soup was ready and we headed home.
I made the kids their usual, their favorite, Peanut Butter and Jelly.  Then I set about preparing my lunch.  Cutting into the fresh baked Panera bread to make my bowl, pouring the still hot Creamy Tomato soup inside and then topping it off with the Asiago cheese crusted croutons.
As I placed my lunch on the table next to my children's plates, I noticed the sandwich crumbs sprinkled on the table and the yogurt smears still left over from breakfast.  Without the slightest urge to clean or wipe away the mess, I made a mental note. I AM THANKFUL.  Then I sat down to eat.
The soup was creamy with just the right amount of texture, the flavors melded perfectly.  It was just what I needed.  Hot soup on a cold day, comfort food when my heart aches, a moment to enjoy and to reflect on all that is still good.
*As a part of the DailyBuzz Food Tastemaker program, I received a Panera Bread gift card and a stipend for my review.  Thoughts and opinions are my own.
You'll like these too!