It seems like forever since I last posted.  I know that you all have been waiting on pins and needles for the cookies I promised :)  Well after a plague of sicknesses struck our house (strep throat, ear infections, snotty noses, fevers, roseola, pink eye), it took a little longer than expected to get this post up but here it is and definitely worth the wait!
3 cups all-purpose flour
1 tablespoon baking soda
3/4 teaspoon salt
3 sticks unsalted butter, at room temperature
1 ½ cup creamy peanut butter
1 ½ cup granulated sugar
1 cup light brown sugar
1 ½ teaspoon vanilla extract
3 eggs
1 ½ cup rolled oats
3 cups semisweet chocolate chips
On medium speed, cream together the butter, peanut butter, granulated sugar, brown sugar and vanilla extract, about 3 minutes.
Add the eggs and beat to combine.
On low speed, gradually add the flour until just combined.
Stir in the oats
and then the chocolate chips.
Use a large cookie scoop (2 tablespoons) and drop dough onto prepared baking sheets about 2 inches apart.
Bake for 10 minutes, or until the cookies are lightly golden.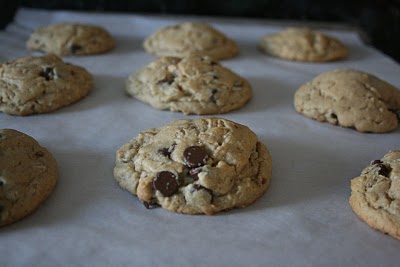 Cool completely on the baking sheet.
Enjoy!
You'll like these too!