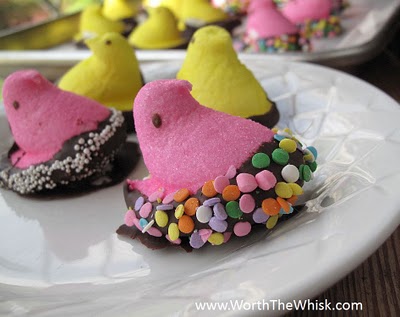 You are either a Peeps lover or a Peeps hater. I am a Peeps lover :) When I saw these adorable Chocolate Dipped Peeps on Patti's
Worth the Whisk
. I just couldn't resist having her do a little guest post here for you all. Enjoy…
Happy Happy Easter to readers of eat at allie's! I'm Patti, blogger at Worth The Whisk and am sharing my merry little "recipe" here to get you excited for your Easter weekend. To be honest, this is closer to a craft than a recipe… Chocolate Dipped Peeps!
I'm definitely no food snob. My recipes tend to be unpretentious, fairly simple but always special. So when I saw Chocolate Covered Peeps at a high-end cheese shop on LA's 3rd Street about a month ago (packaged and expensive) and since I know how easy it is to cover things in chocolate, I couldn't pass up the idea.
If you have tiny kids who don't know how to read a calendar, after Sunday, pick up some Peeps on sale and make these some other time!
Chocolate Dipped Peeps
2 packages (10 peeps per package) marshmallow Peeps
1 cup semi-sweet chocolate morsels
1/4 cup sprinkles or jimmies
In the top of a double boiler, melt the chocolate and stir until smooth, keep the heat on extremely low to stay melted. Line a baking sheet with waxed paper. Carefully pull apart the Peeps into individual chickies. Using your hand, place a Peep in the melted chocolate and then rotate just slightly to move the chocolate up the side. Work quickly to not melt the marshmallow. Scrape the chocolate off the bottom slightly and place on waxed paper. Repeat to finish them all. Then, starting from the coolest one, pick it up and sprinkle the confections, place back on waxed paper. Refrigerate 30 minutes. Makes 20 peeps.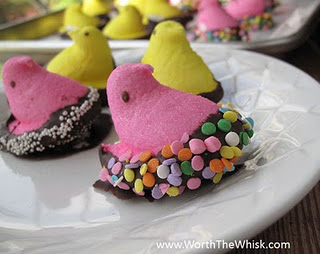 Thanks Patti! These are just the cutest little Peeps I have ever seen!
You'll like these too!