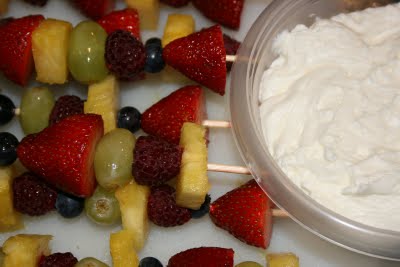 I used to teach kindergarten in San Diego.  Whenever we had any sort of potluck, another staff member always brought fruit with the yummiest tasting dip.  Everyone in the staff room would devour it and there were several attempts made by many teachers to get the recipe but she wouldn't budge, it was top secret.  Although I don't have her "secret recipe", I would have to say that this one I've adapted from Paula Deen tastes just about the same.  It is a great dip to serve with fruit kabobs or a fresh fruit platter.  My kids prefer the kabobs because making patterns and sliding fruit onto a stick is a whole lot of fun for a 2 and 4 year old :)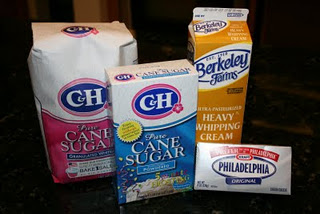 French Cream
1 (8 oz.) package cream cheese
1 cup powdered sugar
1 cup whipping cream
1/4 cup granulated sugar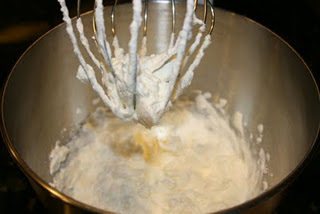 Whip cream and sugar together until it forms soft peaks.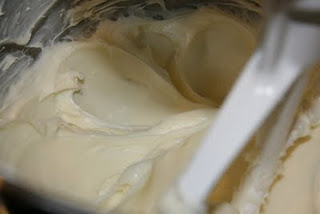 Beat the cream cheese with powdered sugar.  Then add the whipped cream and mix until smooth.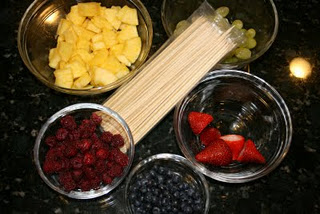 For the fruit kabobs, you will need a colorful variety of fresh fruit and some skewers.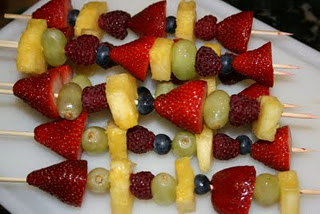 Thread the fruit onto the kabobs.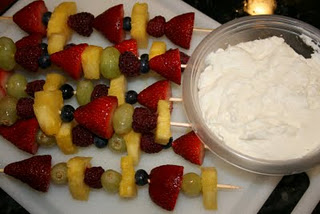 Serve the fruit kabobs with the French Cream Dip for a tasty appetizer or side.
You'll like these too!