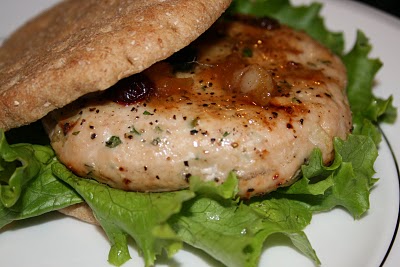 I am always very behind on my DVR. I record so many things and then don't have the time to watch them. One of the shows that I always record and rarely sit down to watch is Oprah. The other day, while hanging out with my early morning riser, I decided to catch up on some Oprah shows. I watched the one where Oprah talked about some of her favorite things. One of those things was a turkey burger that she had eaten at Donald Trump's Mar-a-Lago in Palm Beach. Now I am usually not a huge fan of turkey burgers but this one looked deliciouis and I knew that I just had to try it. After watching the show, I went straight to Oprah's website to get the recipe. After reading through the recipe and a lot of mixed reviews, I scaled down the recipe and made a few modifications. The end result was an awesome burger!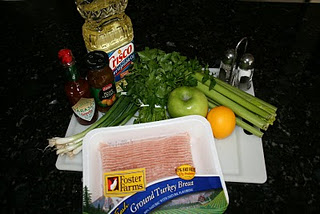 Turkey Burger
1 tablespoon thinly sliced green onions
1/3 cup finely chopped celery
1 small Granny Smith apple, peeled and diced
1 tablespoon oil
1 pound ground turkey breast
1/2 teaspoon Tabasco chipotle pepper sauce
1 tablespoon fresh lemon juice
1/2 teaspoon lemon zest
1/8 cup finely chopped parsley
1 tablespoon Major Grey's Chutney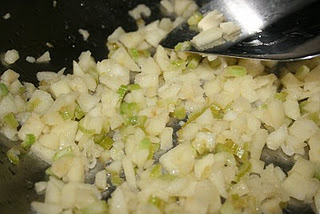 Saute the green onions, celery and apples in the oil until tender. Let cool.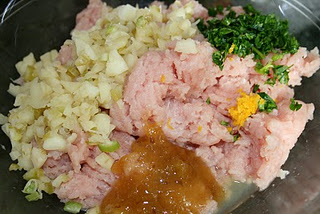 Place the ground turkey in a mixing bowl. Add the sauteed items and the remaining ingredients.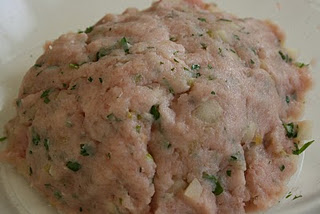 Mix well.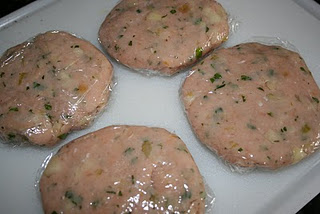 Shape into four burgers. Cover and refrigerate for 2 hours.
While the burgers are in the fridge begin making the Pear Chutney.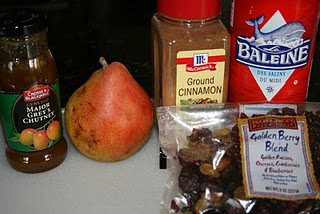 Pear Chutney
1/2 pear, peeled and diced
1/4 teaspoon cinnamon
1/4 teaspoon sea salt
3/4 cup Major Grey's Chutney
1/8 cup currants or raisins
(I used the Golden Berry Blend from Trader Joes. It is a mixture of dried raisins, cherries, cranberries and blueberries.)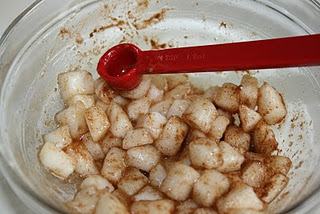 Preheat oven to 350°
Toss the diced pears with the cinnamon and salt.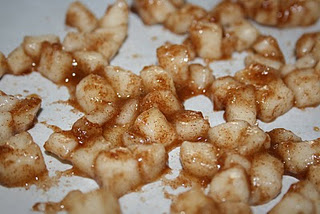 Bake on a parchment-lined cookie sheet for 10 minutes.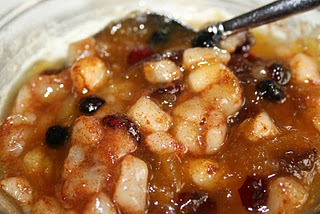 Cool and mix with the chutney and currants or raisins.
Now, back to the burgers.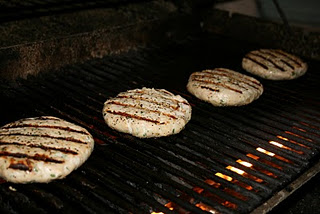 Remove the burgers from the fridge and season with salt and pepper. Place on a preheated, lightly oiled grill. Grill each side for 7 minutes until the meat is cooked thoroughly. Be careful not to overcook or the burger will be dry.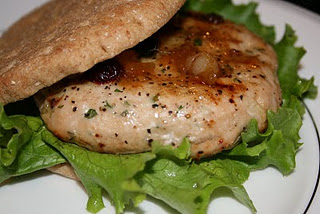 Let sit for five minutes. Top generously with Pear Chutney and serve.
You'll like these too!