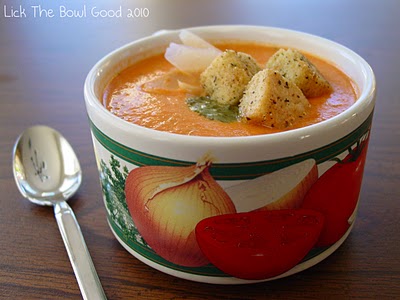 I am on vacation in Hawaii right now. It has been such a treat to relax with my family, enjoy the warm weather and spend our days out at the beach. I imagine that some of you may not be experiencing the same sunshiny days that I am at the moment. Maybe while I am out at the beach, you are on the couch wrapped in a fuzzy blanket? Or maybe while I am lathering up with sunscreen, you are beginning to feel a bit of a chill? Maybe while I am cooling off with my shave ice, what you really need is to warm up with a delicious bowl of soup? Don't worry my faithful readers, while I am out basking in the sun, I have not forgotten you. I asked one of my favorite food bloggers to share a recipe with you while I am away. Thank you Monica :)
*Oh and don't forget there is still time to enter my mini-giveaway, I will be back Saturday and will announce the winner :)
Hello Everyone! I am Monica from
Lick The Bowl Good
and I was asked by Allie to be a guest blogger here on her blog while she's away on vacation in Hawaii! I am completely jealous but because I think she has a beautiful blog with a personality to match, I said yes! Thanks for having me Allie, I'm honored that you asked.
Before I tell you about this recipe, I wanted to tell you a bit about myself. I am happily married to my high school sweetheart and reside in Texas with our furry 4-legged girl, Autumn- a dog who thinks she's human :). I have been baking all my life but have only been blogging for 3 years. I am most content when I'm alone in the kitchen baking for my family and friends or out and about taking pictures of the world around me.
Baking is my passion and specialty, but Allie requested this particular recipe to share with you all because she's been drooling over it since I made it earlier this year. It really was delicious and since it's made with canned tomatoes it can be made all year round and it still tastes fresh. It's creamy and flavorful and tastes awesome with grilled pesto and muenster cheese toast. I hope you enjoy it!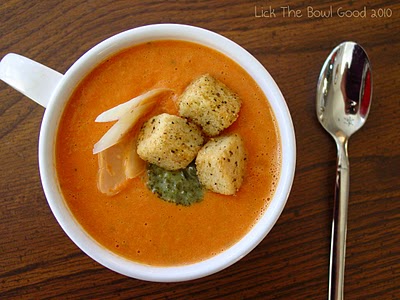 from Monica H
2 Tbsp. olive oil
1 medium onion, chopped
4 cloves of garlic, minced or sliced
2- 28 oz. cans diced tomatoes, drained (reserve the liquid)
1 Tbsp. basil puree or fresh basil, chopped
1/2 tsp. dried thyme
2 cups chicken broth
1 cup reserved tomato liquid (from the cans)
1 cup heavy cream
salt and pepper
Garnish:
croutons
basil pesto
fresh Parmesan cheese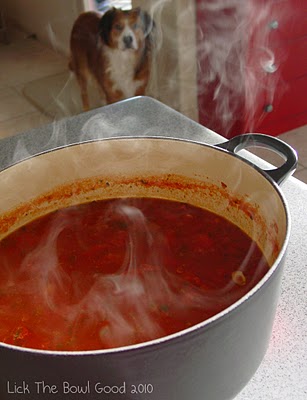 In a large pot over medium high heat, warm the olive oil.
Add the chopped onion to the pan and cook til translucent, about 5 minutes.
Add the garlic and stir. Cook for another minute til fragrant.
Add the drained diced tomatoes, basil and thyme and cook, uncovered,
for another 10 minutes until the flavors meld together.
Add the reserved tomato liquid and chicken broth. Stir and lower the heat to medium.
Cook, uncovered, for 45 minutes, stirring occasionally.
Season with salt and pepper to taste.
In small batches, puree the chunky soup in a blender
or use an immersion blender til the desired consistency is achieved.
Stir in heavy cream til well incorporated.
Re-season with salt and pepper if necessary.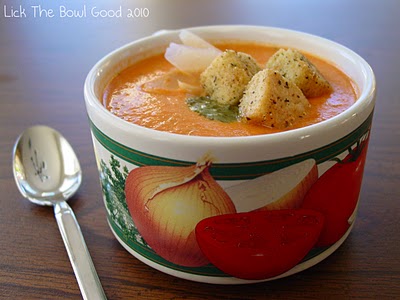 Garnish with basil pesto, Parmesan shavings or croutons if desired.
Enjoy!
You'll like these too!